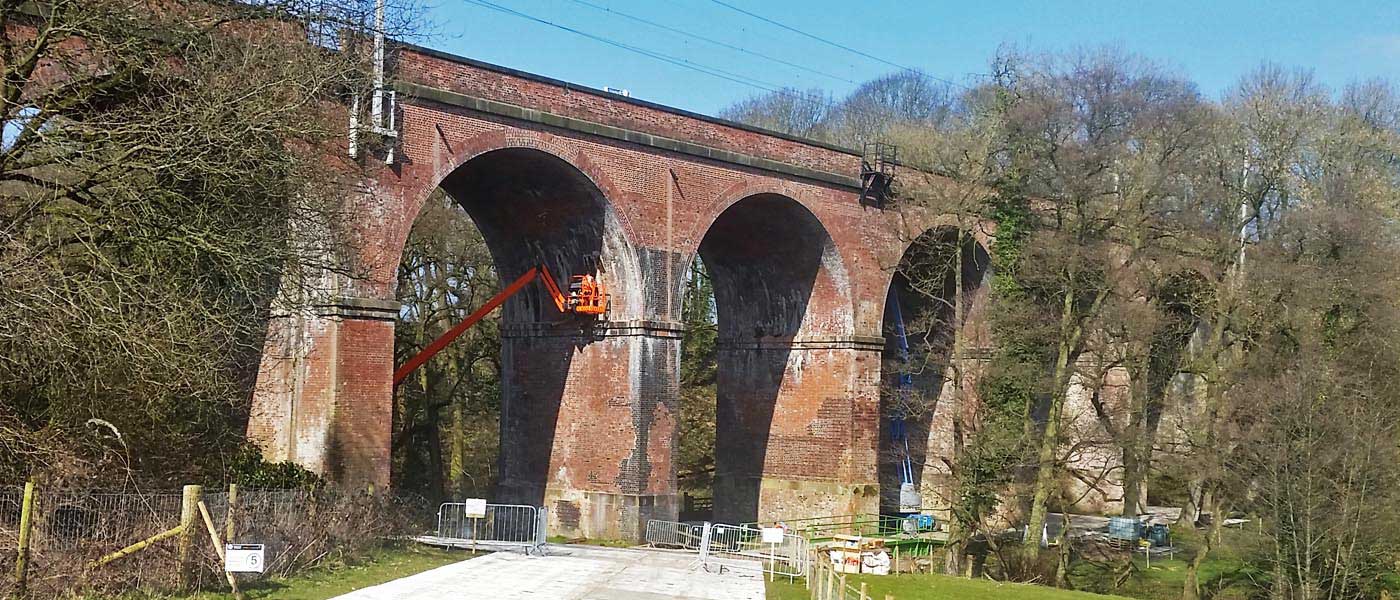 Structural Repair Works, Peover Viaduct, Cheshire
As part of a regional improvement scheme to the rail network APB were contracted to carry out structural repair works on the historic Peover Viaduct in Cheshire.
Due to safety concerns over the integrity of this historic structure APB were contracted to undertake the installation of GRP handrails and to carry out much needed repair works to brickwork on behalf of Story Contracting Ltd.
DESCRIPTION Peover Viaduct
LOCATION Knutsford, Cheshire
CLIENT Story Contracting Ltd
Structural Repair of an Historic Rail Structure
Peover Viaduct is a 10 arch brick structure which carries fast electrified rail traffic across a small valley near Knutsford, Cheshire. Originally constructed in c.1842 the structure was beginning to show signs of age and was in much need of structural and cosmetic brickwork repair.
With the majority of the required brickwork repairs being at a height of between 5 and 15 meters above ground level mobile elevating work platforms (MEWPS) and scissor lifts were used along with scaffold access to allow our team to work safely at height.
Following Network Rail Standard repair details we commenced works in March 2016 in a sympathetic and detailed manner in order to secure the continued integrity of this local landmark for years to come.
Sympathetic Repair of Structural Brickwork
Large areas of brickwork were raked out and repointed along with removing vegetation growing from joints in the brickwork. Cracks to the outer brickwork of the voussoir were broken out and new heritage brickwork recased using temporary straps and laggings to hold brickwork in place while the mortar set. The new outer skin of brickwork was also pinned back to the intrados of the arch.
Separation of the arch brickwork was pinned and grouted. Holes were drilled through the intrados of the arch and long stainless-steel grip bar was resined in place.
Due to the low brickwork parapets trackside a GRP handrail was required to be fastened to the top of the stone copers to provide a minimum height of protection against falling to workers working trackside. All works were undertaken during Saturday night possessions of the rail line.