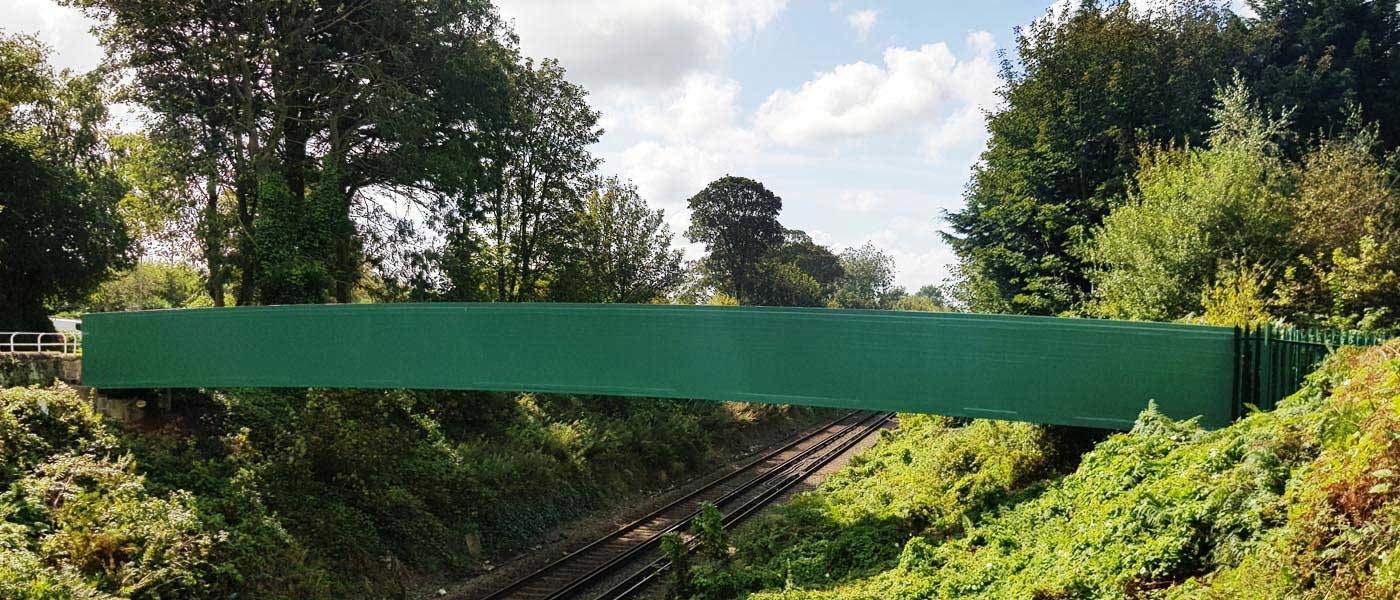 FRP Pedestrian Footbridge, Ormskirk, Lancashire
APB Group's knowledge and dealings with Network Rail along with their experience working with fibre reinforced polymer (FRP) structures helped them to successfully complete the replacement of two bridges over a short timescale using 2 No. weekend possessions.
DESCRIPTION Lancashire County Council Footbridges
LOCATION Doctors & Bridge Street Footbridges, Ormskirk
CLIENT Lancashire County Council
COMPLETION September 2019
Removal of Defective Railway Bridges
The proposed requirements of the scheme were that any suggested solutions would not add additional dead load to the main supporting structure of the carriageway.
Design and build of lightweight fibre reinforced polymer (FRP) footbridges
Traffic and pedestrian management
Bridge end and wingwall break out and bearing release of bridges prior to lift out
Bank seat insitu concrete modifications and temp hand rails
Pre fixing of stainless-steel rocker bearings
Procurement and delivery of 2 No 28 x 2m x 2m FRP replacement fibre reinforced polymer (FRP) footbridges from Holland
Contract lift out of old footbridges and installation of new footbridges using the same railway possession on two sites simultaneously for minimum disruption
Management of the rail interface
Provision expansion joints and tie into existing end surfacing, wingwall and fences
At over 38m long the new footbridges would be the longest single span FRP footbridge in Europe. The reason for using FRP in substitute for steel at these locations was due to the overall weight of the new structure as minimal work was to be undertaken to the existing abutments so they could not be overloaded.
The locations for the cranes were decided and set out on the road and trial holes and ground investigations were undertaken to ensure the strata could support the crane throughout its lifting activities.
Traffic management was put in place and the bridges were released and jacked up before being lifted out and placed on the back of 2 wagon trailers before being cut in half.
The following week the road was once again closed and the crane set up in place. Before lifting and lowering on to new bearings that had been installed during the week.
Tie-ins at either end were undertaken following the installation and new tarmac approaches were installed. Handrails and walls were reconstructed and fencing tied in to the new structure.